Over 20 years of helping businesses be effective online
WEBSITE DESIGN FOR PROFESSIONAL SERVICES FIRMS
Focused on Construction, Financial & Legal sectors in Ireland
Web Design Ireland
"We help 'Professional Services Businesses' to be effective online to get the customers they really want….do the work they like to do and make the margin they deserve to make"
Great website design and digital marketing advice, ensure that you are effective online, rank well in Google searches and attract the customers and staff you really want.
Faster – More Secure – More Visible 
And we totally appreciate that it is not a new website design you really want, but rather the results a suitable website platform can deliver for you… more call, better calls, more sales, customers, staff, time savings, reputation, etc. Talk to us about what is most important for you.
Your website is either your best or worst salesperson – how well is your website working for you?
With 20+ years of experience and 100's of websites developed, we know what we are doing, have a proven process, and have a good portfolio of happy clients.
Talk to us to find out if we are a good fit for you. Or look at our Portfolio page, Pricing page, or About Us page, to answer any questions you may have, before making the call.
Allow us plan, design & create your business website design or overall web presence. Then manage it and market it or train your team to do it, using independent metrics to show you the return on your investment using agreed set targets.
We get results, which makes us stand out.
Our aim is generally to find out who you are, who you serve and what is the problem you solve, then communicate that message to your target audience.
WEBSITE DESIGN IRELAND PORTFOLIO
We have been working with MEANit for a number of years and have nothing but good things to say about them. Michael, John and Maryann really know what they are doing and the team are always on hand when needed.
"Web is a nightmare – MEANit is a dream.." Michael and his team built a new website for me recently. I found Michael's no jargon, no BS attitude was actually what I needed.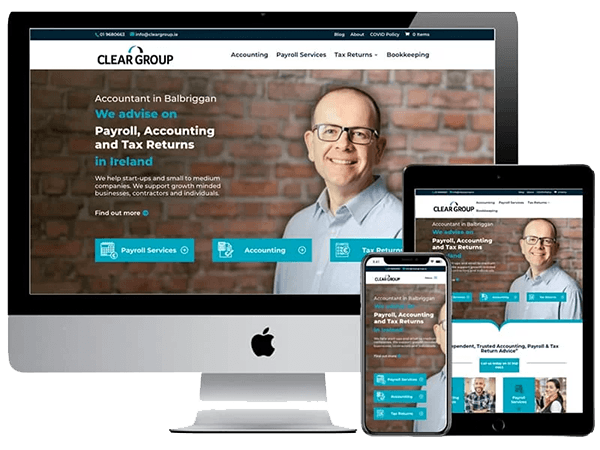 "Very professional. Initially I found you by doing a Google search for website designers. Then I looked at your Portfolio of work. Then I picked out a few of your clients who looked good, then I did a Google search for their services in their areas around Dublin to find that they all ranked very well on page 1.
"I am so so so happy with this website. At last I can be proud of my website. And I can use it too – brilliant…"
WordPress Website Design Platform
A complete, easy to use, web-marketing solution for any professional services business
"Get your business or practice found in Google search and then get your visitors to actually connect or engage with you"
What type of website design do you need for your business? We do Business websites of all sizes. Generally, our clients do not want a website, they want more customers or different customers, more sales or higher sales. 
Each of our business websites is built on a WordPress CMS Content Management System, which allows you personally add, edit or delete your content, written or photographic. All our websites are responsive or mobile-friendly by default.
WEBSITE DESIGN IRELAND PRICING GUIDANCE
"We can only give a detailed quote when we truly understand what you want or need.
Prices below give a rough guide, as we are 100% transparent about everything"
STRATEGIC
WEB DESIGN BUILD
You probably have an underperforming website, but realise you need a better web presence. One that will consistently generate the ideal pre-qualified leads and work you really want.
However. you do not have the team time to be doing all this digital marketing stuff. So you want some expert help.
This allows your whole team to focus on what you do best.
Results guaranteed by us
Let's start with a meeting, then we can write up a digital strategy or plan, to ensure we set some agreed goals or targets for us to deliver for you.
IDEAL FOR:
'Growth focused' medium sized
firms or practices, who want to outsource all the website management and digital marketing responsibility to generate new business – Make the phone ring!
INCLUDES.
Detailed Brief with Marketing Plan
Wireframe or Layout
Custom Graphic Design
Website Development of typically 20 to 100 pages
Initial Search Engine Optimisation (SEO)
Get noticed with a totally custom-designed, fast-loading website built to your specific needs.
Engage your target audience with unique page layouts perfect for feature content and focused landing pages.
Full training is provided
Custom-designed WordPress website, typically 10 to 30 pages
Allows you to make all the changes you want.
And we can add in the critical Search Engine Optimisation, so your website ranks well in Google.
Plus a written plan for your team to follow.
IDEAL FOR:
Medium-sized firms, practices, or businesses ' who need a quality custom ' website and a marketing plan along with some ongoing help every month to generate the leads they want
ESSENTIALS
WEB DESIGN BUILD
Get a clean, fast, mobile-friendly, custom-designed website that ticks all the boxes.
An online presence that makes a big positive impact on your business without investing a fortune initially.
Build your brand and grow your audience with a Mobile-friendly
WordPress websites typically have 5 to 10 pages
Training provided, so you can grow your site yourself over time
Ability to add your own content
Search Engine Optimisation to get you found in Google search results over time
Built on WordPress
Each of our business websites is built on a WordPress CMS Content Management System, which allows you personally add edit, or delete your content, written or photographic. All our websites are responsive (mobile-friendly) by default.
User Friendly
WordPress Website Design Platform is a complete, easy-to-use, web-marketing solution for any professional services business.
Management
Our team of Irish business website designers can manage your business website or train you to manage it. This could be the last 'new' website design platform you ever invest in !
Experienced Team, 100% Irish
Successful people want to be as professional online as they are off-line.
With so many experts and platforms and apps, it's difficult to know where to begin, right?
Meet Michael from the MEANit Web Design & SEO Team
With over 20 years of experience in the web, we can help you develop an overall web presence to give you the opportunity to engage with your chosen audience. This helps ensure that you get to do what you want to do, with the people you really, really want. If that sounds interesting to you, get in touch now for a complimentary chat. Let's see if we are a good fit for you!'
OUR BUSINESS WEBSITE DESIGNS ARE MOST SUITABLE FOR:
Any professional practice, solicitors, accountants or financial advisors, architects, builders or engineers, etc.  Get our FREE Guide to Planning a Successful Website.
Hands Up ! – We are NOT ideal web partners for Enterprise or Retail eCommerce, Hotels, or hospitality. This is not our jam.
We offer guaranteed results through smart business website design – however, really we strive to deliver transformation.
Better results – As we grow to know you, we learn to help you grow your business. We partner with long-term clients, where we achieve ongoing returns. This is how we get referred to new Clients, based on great customer satisfaction.
Better tools – Our Business website designs have easy-to-use Open Source WordPress CMS Content Management Systems, to help put you in control. No Contract and No IT guys are needed. See our FREE web design guide.
Tell us what you want to achieve on the web to…Sell more! Tell more! Be more!
Are you just looking for someone capable, that you can trust to produce what you need now and be there to support you in the future? Contact us now for a No Obligation chat.
"All you need to build good business websites is Time, Talent, and Cash – if you lack enough of any one then just double up on the others – it is no secret".
WHAT OUR HAPPY WEBSITE DESIGN IRELAND CLIENTS SAY
Its a straight up 5-stars for Michael & all the team at MEANit Web Deisgn. We cannot recommend this company enough for creating our website for PVC Fencing Donegal. From initial enquiry, Michael was on the ball with his informative advice & we feel he listened to what we wanted to achieve. He coordinated a great team to help us each step of the way & we found everyone extremely friendly & approachable. We will continue to recommend this company going forward. Thanks again, Niamh & David - Pvc Fencing Donegal.
I have been working with Michael over the last while in connection with creating a unique community website for our area. He visited us on a voluntary basis and gave us a comprehensive overview of the partnership required between our team and web design companies like his. He has continued this approach all along and is always available to give advice and direction when needed. I would have no hesitation in recommending him and his team for your project, big or small and I am confident you will find it a productive and rewarding experience.
Martin Johnston
2022-07-06
Thank you to Michael, for all your help and advice. Very responsive with emails and phone calls. Which means alot, when your looking and needing work done! Highly recommend Michael, so informative and his attention to detail, is 2nd to none !! Continued success to you Michael! Regards Martin
Eunan Cunningham
2022-06-30
Míle buíochas! Our sincere thanks to Michael and his team at MEANit for producing an excellent website for us at gteic Cill Charthaigh. We had a very tight timescale in which to work with a non-negotiable deadline and we also required a bilingual site (Irish and English)! Everything was carried out on-time and within the budget. Nothing was too much trouble. It was a totally painless process and we were more than satisfied with the outcome. We would have no hesitation in recommending MEANit to anyone who wants a professional website for their business or organisation or committee etc. Go raibh míle maith agaibh!
I could not recommend Michael, John and Maryann at Meanit enough for anyone who is looking to build a website or update their website. Right from the beginning Michael was there to assist, and build my website to ensure all the content I wanted was there and the site was professional. Michael and John ongoing support and advising how to maximise our website content is excellent. Michael Gill FCA, partner Bonner Gill & Co. Chartered Accountants.
Alice Hartigan
2022-03-03
Michael, John and the team at MeanIt have been a pleasure to work with. They respond fast, have a genuine interest in the work we do and are so helpful. Couldn't recommend more 🙂 Thanks so much for all your continued support!
Killybegs Marine Cluster Blue Economy
2022-03-02
Meanit have been absolutely amazing from the initial brief to project completion, which was delivered on time and on budget. We couldn't be happier with Meanit and their customer service is excellent. We highly recommend Meanit as a service provider.
I look forward to Meanit s email on a sunday allways great information and links thanks Michael
patrick conaghan
2022-02-24
Michael and his team are always available for expert advice and support.
Anthony McGlynn
2022-01-18
I can't recommend Michael, John & Maryann from MeanIT highly enough. From initial consultation, to implementing a plan and watching my website become a reality, nothing was ever a problem. I found Mean IT to be very professional & knowledgeable. Michael has been excellent giving me tips to help with my Google ranking and what is the best way to increase visitors and more importantly increasing sales on my website. I look forward to continuing adapting and upgrading my graphic design website in the future with Michael & the team. Thanks again for all your help and giving my business an excellent online presence.
WEBSITE DESIGN IRELAND FAQS